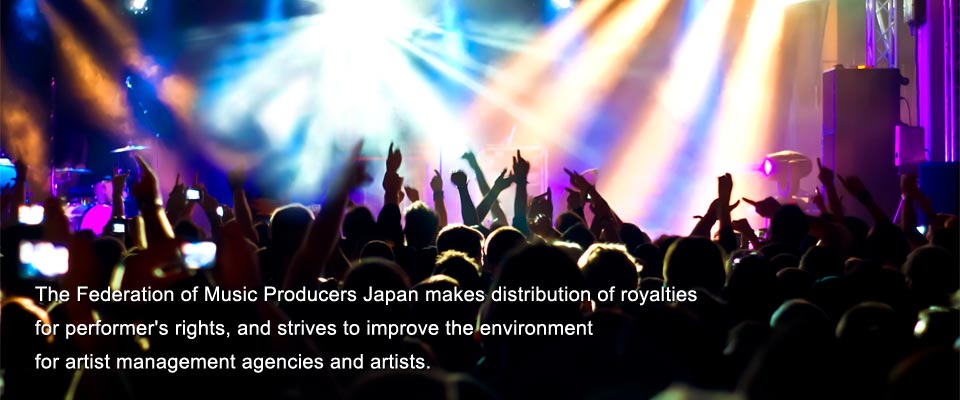 The Music Business and Music Production Companies in Japan
In Japan, a company that is engaged in the management of artists, such as musicians or songwriters, as well as the general production of music is referred to as a 'production'. This term probably sounds strange to a foreign company, and it could cause confusion. But it literally means 'music-production company'. We shorten it for simplicity.
This might be unique to Japan, but 'productions' play a wide range of roles in our music industry. For instance, they may undertake the roles that in Europe or the USA would fall to a producer, business manager, personal manager and agent. In some cases, they also own music-publishing companies or master-production companies and operate their own independent labels.
'Productions' provide crucial support for their artists. They often hold various rights of the acts they manage, such as neighbouring rights and rights of publicity. In addition, they negotiate on behalf of artists when licensing to record labels, publishers, distributors and merchandisers. 'Productions' may also collaborate with their artists in the general creation process, as a producer, to help them build the foundations for their career.
FMPJ's Role in Japan
The FMPJ (the Federation of Music Producers Japan) currently has around 230 'productions' as member companies. It is approved by the Prime Minister as an Incorporated Association that represents various rights for artists, such as the neighbouring rights of performers. Through the CPRA (Center for Performers' Rights Administration), in whose operation FMPJ participates, it receives royalties due under neighbouring rights (royalties for rental phonograms, secondary-use fees for commercial phonograms, compensation for private sound recordings, compensation for private visual recordings and secondary-use fees for broadcasts) and distributes them to each 'production'. In addition, through aRma (audiovisual Rights management association) that also participates in the operation had started dealing the fees from the piped-in music.
In Japan, there are two associations of which 'productions' can become members, and one of them is the FMPJ. There is also an association called JASRAC (the Japanese Society for Rights of Authors, Composers and Publishers), which manages music copyrights. In addition to those associations, there are other music-oriented associations in Japan such as the RIAJ (Recording Industry Association of Japan), an association of record companies; the MPAJ (Music Publishers Association of Japan), an association of music-publishing companies; and the ACPC (All Japan Concert & Live Entertainment Promoter's Conference), an association of concert promoters. This may seem unusual to overseas artists and management companies, but having segmentalised associations within the music industry enables us to provide targeted support to each artist according to their needs or situation.
The FMPJ proudly represents the largest number of member companies and artists (over 10,000 of them), who entrust us with their rights. These include world-renowned performers such as Ryuichi Sakamoto as well as other emerging J-pop or J-rock acts.
Artist who belong to the affiliated companies include
B'z/CORNELIUS/flumpool/GLAY/JAM Project/Joe Hisaishi/Ken Ishii/DJ KENTARO/DJ KRUSH/
L'Arc-en-Ciel/MIGHTY CROWN/Momoiro Clover Z/ONE OK ROCK/Perfume/POLYSICS/
Ryuichi Sakamoto/Sakanaction/SCANDAL/Tomoyasu Hotei   and more (in alphabetical order)
Major Activities of FMPJ
In the fiscal year 2012, the FMPJ distributed fees totalling ¥2 billion to member companies and artists who had delegated their rights to us. This breaks down as:
¥851 million in royalties for rental phonograms
¥1,771 million in secondary-use fees for commercial phonograms
¥59 million in compensation for private sound recordings
¥23 million in compensation for private visual recordings
¥74 million in secondary-use fees for broadcasting
Running educational campaigns aimed at the general public, highlighting the importance of copyrights
Circulating a free magazine
Operating a new music portal site dedicated to providing information about concerts, festivals and events of member artists (www.nexus-web.net)
Offering human-resources development, with an eye towards future generations of the music industry
Running proactive social-action programs, such as providing support during natural disasters
Conducting continuous research on the production of TV programmes and how best to handle the related rights of artists
The FMPJ' s board includes representatives of key member companies, and meets to discuss policies for its activities.
The FMPJ is also a planner / organizer of various live event; We have a history and experience of organizing number of live events.
Over 1,000 music-industry professionals gather at our New Year party every January.
FMPJ Board of Directors
President

:
Mr. Mitsunori Kadoike
from BAD MUSIC
Vice President

:
Mr. Hideichi Kurita
Vice President

:
Mr. Bin Tajima
Managing Director

:
Mr. Masaji Asakawa
from ARTIMAGE INC.
Managing Director

:
Mr. Tatsuya Nomura
from LONGFELLOW
Managing Director

:
Mr. Fumiyuki Kanai
Full-time
Director

:
Mr. Masayoshi Ikeda
from CUBE. Inc.
Director

:
Mr. Shunji Inoue
from Lantis Co., Ltd.
Director

:
Mr. Koichi Endo
from UK.PROJECT INC.
Director

:
Mr. Akihide Kikuchi
Director

:
Mr. Taro Kumabe
from U'S MUSIC Co., Ltd.
Director

:
Mr. Masashi Kondo
Director

:
Mr. Ryoji Chimura
Director

:
Mr. Takeshi Tsuruta
from POWERPLAY CO.,LTD.
Director

:
Mr. Akira Higa
from High Wave Co.,Ltd
Director

:
Mr. Masaki Higashimura
from RENDEZVOUS Co.,Ltd.
Director

:
Ms. Yohko Murakami
from STARDUST MUSIC, INC.
Director

:
Ms. Isao Yamashina
from AMUSE INC.
Inspector

:
Mr. Nobuhiko Takahashi
Legal Adviser / Inspector

:
Mr. Zen Tatsumura
At the date of 1 January 2013, FMPJ is composed of 227 Full members, 769 Associate members, from 71 Supporting members.
→Member list is here
Access
View Larger Map
JINGUMAE WADA BLDG. 2F
5-48-1 JINGUMAE SHIBUYA-KU TOKYO 150-0001
TEL:+81-3-5467-6851 FAX:+81-3-5467-6852